Prelinger Library and I will be co-hosting two initial launches of my new sound-art installation (see below for a description). Please drop by during one or both of these openings — They'll be different — and spend some time floating and "wondering" through the Library's unique stacks, as they're reshaped and activated by a world of low-density, library-quiet sound.
7 to 9:30 PM, Wednesday January 26, 2022
4 to 7:30 PM, Saturday January 29, 2022
Free
Masks are required. Attendees must show proof of full vaccination.
Prelinger Library
301 8th Street (at Folsom), Suite #215
San Francisco 94103
(415) 252-8166
https://prelingerlibrary.org

[You Are [Here] You [Are] You Here], by composer Thom Blum, animates Prelinger Library through the use of sounds; something you don't generally expect or want in your typical library. But Prelinger Library is in no way typical. You notice that as soon as you enter the space and peruse the stacks.
The sounds in the installation are infrequent and for the most part quiet and fleeting. While barely audible they inconspicuously call your attention to specific ephemera, knowledge, and artifacts that occupy areas of the Library's stacks, nooks and crannies. At times it becomes a sonic treasure hunt.
The real goal of the sound installation is to pique the visitor's curiosity and to enhance or transform the visitor's experience of The Library, pulling one into and around the stacks in ways that wouldn't normally happen were it not for the invisible sonic guides. It serves to give voice to, transform, and animate the Library and the gems it contains.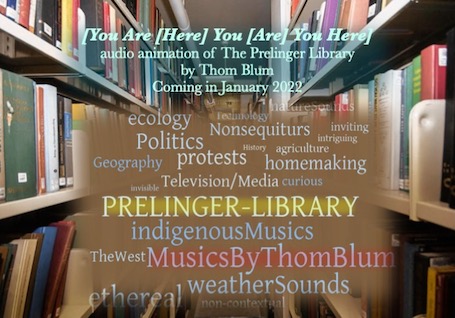 thom at thomblum.com
http://www.thomblum.com
https://thomblum.bandcamp.com
https://prelingerlibrary.org